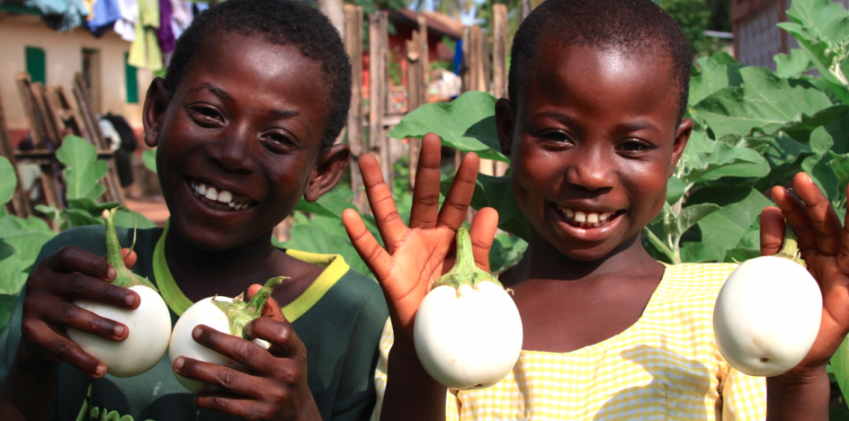 Nutrition
The basis for a healthy, successful life is a healthy diet. 
We work with local community members so that the children at Happy Kids receive three nutritious, balanced meals on a daily basis. This includes feeding over 140 children every day. Having access to food is a basic human necessity that many children in Wegbe don't have the luxury of experiencing.  Gbi-Wegbe is a very poor, rural village, and the majority of children in this small community are fed only when at Happy Kids. Children that go to school hungry are unable to focus on anything other than the rumbling in their bellies. As a result they are almost always tired, weak, and unable to grow and learn at their full capacity. To address this, we've implemented a wide variety of measures to combat malnutrition and improve the food program for our kids.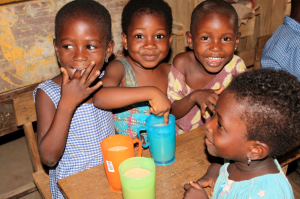 In addition to providing full meals, in 2011 we began distributing a nutritional supplemental meal to community and school children.  This hearty porridge, known as "Tom Brown", is traditionally distributed at the local hospitals to those suffering severe malnutrition. Its ingredients include soy beans, wheat, maize, milk, sugar, peanuts, glucose and other vitamins. In 2014, we began also distributing fruit in the place of Tom Brown, to provide greater variety in the children's diets. Since beginning distribution, we have seen an increase in attendance at school and a noticeable weight gain among the children.
Happy Kids also implements a food plan and menu to monitor nutrition. Our nutrition program goes hand in hand with our livestock and agriculture program. Eggs produced by the chickens and vegetables grown in the farm are used to compliment the children's diets, and also reduce food costs.
However, affording to feed this many children on a daily basis continues to be our greatest challenge. Funds are constantly needed to buy the food necessary to children's survival.
DONATE NOW
How you can Donate, Easy Steps
1
Pick your project
Learn about each of our projects and choose which ones you'd like to support.
2
Sign up to 'Donate Now'
Choose to donate to that project via a one-time donation or recurring monthly donation.
3
Receive updates
Learn about how your help is supporting innovative solutions to poverty, malnutrition and poor education.